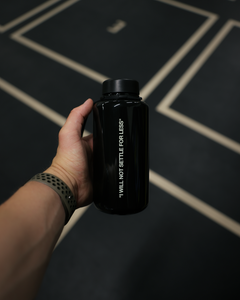 PROJECT 50
Project50 is a lifestyle challenge made for the top 1% of tomorrow.
If you're a creative, athlete, entrepreneur, high-performer or if you just want to start living your life to the fullest this is for you. 
Ever saw someone and thought to yourself: How do they do all of it?
We spent years connecting, learning and studying a group of people that are the most successful, ambitious sought-after in their industry:
The so called "Top 1%". 
But... who are they?
The people that belong to this group are to be found everywhere. They are the ones that outperform 99% of the rest. All the time.
Although all of these people are very unique, after analyzing their characters, it was more than clear to us, that they all have certain habits in common, which put them at the top of the chain and make them so successful. 
We took the 7 most important traits, and formed them into an every-day lifestyle challenge, consisting of 7 rules.
We challenge you, to follow these rules for 50 days, the exact time it takes to form habits to keep them forever. 
If you want to be part of the 1%, if you want to turn your life around and maximize your potential, you need to start this challenge. 
There is more to the life you're living. Stop depriving yourself of what you can be and start now.
RULE 1: WAKE UP BEFORE 8 A.M.
But sleep 6+ hours and try to maintain a consistent bed routine with enough sleep/ make this rule fit to your individual needs.
RULE 2: DO YOUR MORNING ROUTINE
Do your morning routine: 1h no distractions. (no phone and social media. If enough time, also meditate, go for a walk or simply deep-think and mentally prepare for the day.)
RULE 3: EXERCISE FOR 1H A DAY
Exercise based on your fitness level. (Includes walking, stretching, running, yoga, bike gym etc...)
RULE 4: READ 10 PAGES A DAY
Read motivational, psychological OR business-related books (also educational books count.)
RULE 5: DEDICATE 1H TOWARDS A NEW SKILL
Prepare goals and anticipated skills before the challenge starts (prep phase). No distractions and high concentration while doing.
RULE 6: FOLLOW A HEALTHY DIET
Follow a diet of your choice. (no alcohol, no soft drinks and generally less sugar for example). Also drink enough water.
RULE 7: TRACK YOUR DAILY PROGRESS IN A JOURNAL
Write down positive and negative experiences, what you've learned and where you can improve.
GENERAL PROJECT50 RULE
If you fail on any of the 50 days, start over at day 1. Repeat until finished.
WANT TO BE AN OFFICIAL CREATOR?
Official Creators can expect a close partnership, with SOM STUDIOS, regarding free products, close contact and profiting from our extensive network in the fitness and creator industry. On top of that, you can expect brand deals and benefits. If you sign up, we will take a close look at your account and select internally.
Requirements:
- Must have minimum 10k followers
- Must be starting/doing/finishing PROJECT50
- Must be posting regularly
________________________________
Contact creators@somstudios.com with your details.
Join the community
Start your journey here and connect with thousands of other like-minded people on Telegram.
CONNECT WITH ATHLETES ON STRAVA
Join our athletic clubs on Strava to stay on track while working out & pushing boundaries in training.